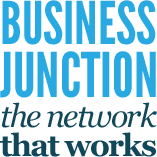 Business Junction is London's leading independent business network hosting 60 networking events across London every year. Famously relaxed and informal, our events attract business owners, directors and senior management from a rich mix of business sectors. At the events, we actively facilitate business to business connections, helping your company raise its profile, increase its valuable contacts and develop new contracts. In between events, our unique Alerts system brings your business into direct contact with opportunities worth thousands each month.
The best way to find out about what makes Business Junction London's leading independent business network so successful is to book an event as a guest and talk to our members.
become a member
FREE Champagne Breakfast
80 pan-London networking events each year
Send and receive Alerts within the membership
Free listing in the London Business Directory
The London Business Directory 2019
published by Business Junction
All Business Junction members receive a quarter page listing in this unique annual full colour business publication. Join Business Junction by Friday 25th January 2019 to get your business listed in the Directory - and online - free of charge as one of your membership benefits.