About us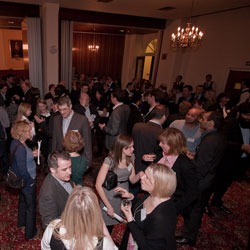 Business Junction is London's leading independent business network, created and operated by business people for those who own, run, or work for businesses.
Business Junction has over 500 company members, with all sizes, sectors and areas of business represented. We hold 50 events per year across central London, with the calendar comprising:
- a networking lunch each week held at some of the best restaurants, hotels and venues available (50+ company guests attend)
- a monthly Champagne Philippe Brugnon networking breakfast (45+ company guests attend)
- six evening networking events which are free of charge to member companies (2 people per member compay can attend) and include complimentary drinks and canapés (150+ company guests attend)
- special events, sponsored and organised in association with leading organisations with a specific business target audience
Creating Opportunities
Business Junction is the network that works.

Business Junction's primary aim is to increase the trading opportunities for its members.
Business Junction facilitates and encourages the development of close relationships between the members of its business community, where any business can be introduced to another potential supplier or purchaser through our network.
Our network is borderless, recognising no barriers, whether geographic, sector, size or age, colour or gender.
Our network is famously relaxed. Visitors are always struck by how friendly and supportive everyone is.
Our network is effective. All our members and event attendees are directors, senior managers or owner-entrepreneurs of some of London's best companies
Our network is for adults. We don't insist members attend any event. No pink slips. No speeches and ten-minute presentations, unless the event has a technical focus and is highlighted as such.
Our network is diverse. All our events are different. The mix of businesses and personalities is always different. We have some of London's most creative companies working with some of the capital's most respected and mature.
Our network is innovative. Member Alerts, online directory, the Leisure List, Leisure Map, London Property List, the London Business Survey. We are always thinking of new ways to promote our members and find new opportunities for them.
Our network produces the annual London Business Directory
Our network was founded 19 years ago in Shoreditch. It is the most established independent business network in the capital and continues to grow and nurture its members.
Partnering
Business Junction occasionally partners with organisations and companies wishing to build relationships with a specific business community, either by area or sector. These commissions can be on a consultancy basis or with specific deliverables on a project basis.
Examples of organisations which have commissioned or partnered with Business Junction include UKTI, Business Link, Knowledge Dock, Tower Hamlets College, Enterprise - Way To Work, Shoreditch Trust, Creative Industries Development Agency, London Borough of Hackney Council and Prevista.
Get Involved
Event attendance and membership is open to all. Book an event and then let our members tell you about what they get out of Business Junction - http://businessjunction.co.uk/events
Contact Information
Business Junction
18 Rivington Street
EC2A 3DU
020 3667 6776

admin@businessjunction.co.uk
what our members say
" What a find! "

Richard Bannister

"I have been able to grow my business far beyond my targets!"

Seema Mangoo

"No hesitation in renewing our membership!"

Hugh O'Neill